Belize Will See Its First Cruise Ship In 17 Months in July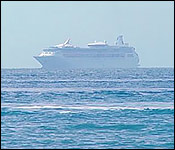 On July 7th, Belize will see its first cruise ship in 17 months. Carnival Vista, operated by the Carnival Cruise Line, will be sailing into Belizean waters, bringing hundreds of tourists with it – and, hopefully, hundreds of dollars into the economy.But what about the possibility of bringing dozens of new COVID variants, along with a strong second wave of COVID?
The cruise director at BTB told us today that they're not naïve enough to believe that one or two cases won't pop up because of the return to cruise ships, but they're hoping that the protocols will be enough to prevent a spike, and, of course, another wave.
Noriko Gamero, Director, Cruise & Destination Planning
"One of the first things that we have done since the closure of cruise in Belize is we've develop a cruise task force that's comprise of several different entities: Immigration, Ministry of Health, BTB, Customs, the different ports – just to name a few and what we've done is we've come together to look at what are the different operations processes during the arrival of a cruise ship to determine what protocols will need to be amended and adjusted to meet the health and safety standards for reopening. We launched a first draft of our protocols a couple weeks ago and one of the protocols that's it there is of course all gold standard operations will need to be done. For the reopening we looked at enhanced testing to go on the ships. During that time we had offers for sailing outside of the US port and now the Carnival from a US port. So all the protocols were in line in trying to gear to all these different recommendations that came throughout the pandemic."
Reporter
"Is this a cause for concern for another spike in Belize?"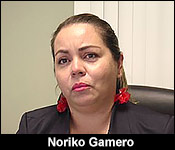 Noriko Gamero
"Its important to note that we've had over hundreds of thousands of cruise passengers sail since the pandemic started, since the closure of March 13th, last year when we received our last cruise ship. So, Europe has been sailing, Asia has been sailing, so all of these protocols have been tried and tested without having vaccines readily available in the market. So now that vaccines are kind of more accessible the health and safety should be a lot more relaxed. It is not uncommon to have a positive case pop up here and there. It's no different than we had in our overnight sector. Its something that is going to become a part of our daily routine is knowing that all measures can be taken and you still have a one-time exception. It's making sure that we trained all our employees, get them vaccinated. The more of us that are vaccinated the safer we become, the quicker we can reopen."
Reporter
"Are you concern of other variants coming into the country?"
Noriko Gamero
"That's a reality we have to face even through the airport and the border points. It's just continuously making sure that we wash our hands, use our face masks, get vaccinated and use all the measures and protections for the health and safety protocols in place."
Gamero also gave us the numbers of arrivals prior to COVID, and their projected numbers as we slowly venture back into cruise tourism.
Noriko Gamero
"Prior to the pandemic we had 4 consecutive years of over 1 million passengers. Going up to the pre-pandemic we were doing really amazing with our cruise numbers. In 2020 we only saw cruise passengers from January to March and that was about 343 cruise passengers. Moving into this year, we have the Carnival Vista that's confirmed with a couple calls for July and really schedules are shifting daily, so we don't have any immediate forecast and reason for that is just because even the CDC is approving the ships daily, the cruise lines make sure that work with the cruise ports for embarkation and making sure that their crew is all vaccinated that they are trained as well. As those itineraries are popping up we are then adding. I know Belize has been advocating strongly to be one of the first to restart in the Caribbean and we are very excited to get this first ship back and start getting some employment moving in the economy. I encourage everybody to please get vaccinated."
Closer to the arrival date, BTB will be having workshops for tour guides and operators to help them work with the protocols in place.